Good food can bring a good mood. Many people are there, facing immense stress in their professional life. To escape the pressure, you can plan a day's visit to a restaurant with your partner. You shall be able to spend some good time with the partner. Nevertheless, you shall be able to taste some different foods. Trying out new kinds of foods is something that brings pleasure to life. In restaurants, people most try Italian, European ad continental foods. However, Asian cuisine is also getting popular day by day in different parts of the world. Asian dishes include unique flavor and aroma. In the following section, you can find some reasons to try delicious Asian foods.
1. Asian Foods – Healthy Soups For Easy Digestion
In European cuisine, soups are generally thick or heavy. But, in Asian cuisine, the concept of preparing soup is entirely different. In China, Korea, and Japan, you shall find the healthiest soups of the world. The soups are made with basic spices and unique or exotic vegetables. Mushrooms, meats, green vegetables are the primary ingredients of the Asian style soups. These soups are incredibly healthy. Consuming them would not cause digestive issues. Moreover, soups are eaten before the meal to trigger the appetite.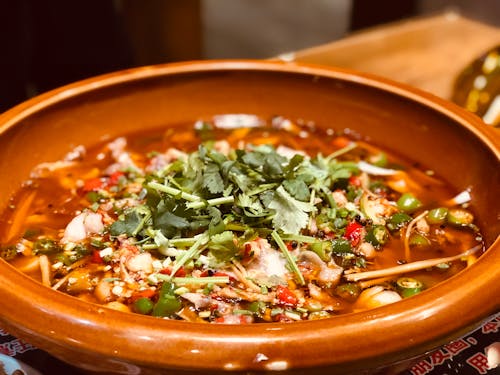 2. Use Of Vegetables And Meats
Asian foods are healthier than European foods, as, in Asian dishes, meats are paired with a lot of green vegetables. Eating meat is essential, as it is a source of protein for our bodies. At the same time, eating green vegetables is necessary. Green vegetables are easy to digest food items. They are a rich sources of vitamins, minerals, antioxidants, etc. Vegetables come with natural fiber which helps in toxin cleansing from our body. Natural fiber keeps the digestive system in good shape.
3. Asian Foods – Lesser Spicy And Oily Foods
The best thing about Asian foods is that they come with limited spices and oil. Foods in Japan, Korea, and China come with a small number of spices. A small amount of fat is there in such foods. As a result, these foods come with low cholesterol. If you are on a diet to reduce your body weight, you should try different Asian cuisines. They are extremely healthy. They do not also come with a high amount of oil or fat.
4. Use Of The Seafood
Asian food uses fishes, prawns, lobsters, squids, crabs, octopus, etc. Seafood is a source of a high amount of protein. The best thing is that seafood comes with simplified protein which is easy to digest. Fishes contain good cholesterol and fatty acid. With seafood, you can avoid the fat that comes with meats. Eating a high amount of fat is not suitable for your body. You have the chance to gain weight abruptly. Nevertheless, the cholesterol level of your body will go high.
5. Unique Herbs And Spices
In Asian dishes, you can notice the use of a lot of herbs and spices. These herbs and spices come with a lot of proper nutrients, including antioxidants, vitamins, minerals, etc. The presence of these herbs and spices makes Asian food extremely healthy.